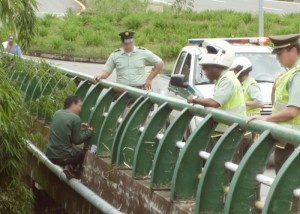 "More than 240 people have taken their lives in this department in the last 6 years"
– Legal Medicine Colombia
We are facing a very worrying situation, especially in recent years that have elapsed after the earthquake of January 25, 1999: A wave of suicides grows in Quindio and we must be alert. It is possible that the use of a biased investigation and prevention on the subject model, parcialice statistics and soften the percentages to appease the community while secretly or publicly, people are still committing suicide. In addition, this reveals a fundamental problem, a moral crisis where the other does not matter, where the growing individualism does not let us think of the welfare of others.
The suicidology, which is a new discipline that deals with the study of the various aspects related to suicide and its prevention, had its origins in the sociological theories of Emile Durkheim and later supplemented with psychological theories of Sigmund Freud and his followers, which they were gradually deriving their investigations into a psychiatric profile, giving great importance to biological factors of suicidal behavior between 1950 in 1970, resulting in the development of this pharmacological unprecedented undertaking. These biological factors occupy an important position in the most comprehensive explanation of suicide and understanding of man as a biological, psychological and social being (although understanding that "social" factor from a psychological reinterpretation).
In that sense, the suicidology has handled about 100 years ago strictly psychiatric profile, although this way of addressing the issue of suicide has serious difficulties: it focuses on the medicalization of the patient, supporting the global market for antidepressants that moves about 17,000 million dollars a year; in confinement in mental health and in disqualification of the person, I say this thinking about what Foucault says that psychiatric confinement have intended to mark the boundaries between normal and abnormal. Indicating that suicide is a "mentally ill", we say it is "abnormal" we do not want to be, that is why the repudiate and know, as we do with so-called mentally ill.
In Quindio has always handled this psychiatric profile and practically the work has to be done is to train and specialize mainly officials of mental health, but the problem is that many of the people who have committed suicide in the department not EPS are not have Sisbén not go to hospital, kill themselves in the street or at home.
I had the opportunity to attend two events on suicide in Quindio, which, for me, made clear the shortcomings of this psychiatric profile management and suicide prevention. The first lecture called "prevent and clarify concepts about suicide," held on July 7, 2012 at the Mental Hospital Finlandia, home Armenia, conducted by psychiatrist Oscar Cabrera and an official of the Ministry of Health of Armenia. There the psychiatrist was dedicated to give statistics (bla bla bla bla), to which I thought, "this is what can serve their patients, if hard to instil fear." The official of the Ministry of Health of Armenia said, complimenting the medical exposure, "it is that those who commit suicide are gross, plus they know that's wrong done, that's why they kill hidden". Patients, who were about 30, most of whom had attempted suicide, bow their heads and accept the scolding. What was done that day was defame, insult people and try to get customers with that treatment is made in this institution, which was reinforced by the aggressive promotion of its services.
The other event I attended was the First Symposium on Suicide: Update on Research and Challenges for Intervention, organized by the University of San Buenaventura Armenia and conducted at the University of Quindio, on 5 May 2015. There I draw attention two positions I found the first of the psychologist Deisy Viviana Cardona Duque, which speaks first reflection of Albert Camus on suicide and the absurdity of life, and on the interpretation Durkheim suicide as a phenomenon derived from social causes; and then says, "these were interpretations of philosophy and sociology major at another time, but today no longer serve". When I ask why the contribution they could make other disciplines reflection issue of suicide prevention and even disqualifies and why in that sense psychiatry not want to open the discussion or receive contributions. The answer was given by the psychiatrist José Fernando Castrillón: "psychiatry only has the power to address the issue of suicide. It is not just talking to the person, nor is enough with the psychologist, anyone who has suicidal thoughts is mentally ill and you have to medicate and hospitalize the time necessary. Other disciplines can say what they want but none of it serves only the psychiatrist knows how to handle it. "
From all this we can say that the psychiatric model of suicide prevention and intervention partializes speech about the patient who wants to commit suicide, he focuses on disqualifying as a person and affirm it as "sick". It is precisely from here that the conflict arises with the sociological model, for which, suicides are not "sick", but are, guess what: people. To say that all suicide is mentally ill implies ignorance of the phenomenon that is happening in the Quindio, in the last six years statistics have taken a drastic turn, and do not commit suicide in as many drug addicts or young depressive and think posture psychiatric, but people between 40 and 80, which are obviously victims of social circumstances such as unemployment, poverty, hunger or debt, as the famous case of the 28-year-old Erika Salazar, who threatened by lenders preferred poison their three children and commit suicide.
In this sense, we can understand why for sociological model based primarily on studies of Durkheim, society is to blame for the phenomenon of suicide, then, what is the nature of each individual man is nothing but the impact of what he has done in the midst of society, this, from the resources that the community will provide (or do not give) why, the reasons for the suicidal action will not come, according to Durkheim, completely out of one even though it is a consciously chosen decision but in the end, will be structured from the budgets of particular social group in which he is enrolled. The consequence will be isolation or complete integration and self-inflicted death.
Another news that could also make us think that the sociological model for the management and suicide prevention should be implemented, is what tells us John Jolmes Cardona in The Chronicle of Quindio, about the suicide of Carlos Andres Restrepo was launched bridge Florida in 2014:
! The spectators urged citizens to lanzarsse (…) I thought that I would not, that was what they thought the many people who attended the they took as a function.
(…) Bothered me the screams of people behind me, in an act that can not yet understand, shouted to jump, he did, it was a hen, he was a coward simple.
(…) That mingled shrieks so ghoulish laughter
(…) His hands were still subject to the railing and I could see in his eyes a demented brightness, but keep listening to the jokes, teasing, meaningless phrases, turned and saw in the waiting that same look of madness.
(…) It was not all I have to say, because in other eyes I saw a great sadness …
(…) I was watching him when his bright eyes and his whole body were swallowed up by the darkness.
(…) The act was over, when he turned I saw as fully citizens away … soon climbed the bad news that Carlos Andres had died.
(…) I have not been able to get me out of the mind that image and I refuse to believe that indolence I witnessed that night had been real. I also refuse to believe that life so little amount.
This shows us that we are not getting a big city, and we do not mind another, do not want to help anyone, the suffering of others has become an attraction for a simple news that we long !.
We can think of then, after all this, and as stated the position of Durkheim, it is necessary to establish a moral training which must be involved at school, college, parents, institutions and laws. For Durkheim, only a cohesive society prevents its members evade their responsibility with it, to be death. If the person is integrated, you learn to stay alive for others, overcoming the problems that may arise, through a mutual and consistent with other support. moral training involves a commitment to restore the social fabric, restore social cohesion, reestablish the link between individuals. In this sense, it must begin to attack the social causes of suicide and not the suicide, as usual psychiatric model.
On a personal level, we can act against determinants that are within our reach, against domestic abuse, from neglect of the elderly, intolerance, among many things that can help us to ensure the welfare of the other.
A local and regional level, first government, attacking our major social problems such as unemployment and micro-trafficking. Secondly, we need groups of survivors to understand the experience of grief and feeling of improvement, not self-help groups; we need a line of local attention as the 125 but that works, since 01 8000 113 113, line national attention on mental health, which appears on the website of the mayor of Armenia, also serves; a "real" for institutions, schools, universities, parents, firefighters, police, civil defense training is needed; and with "real" I mean how to deal with suicidal risk situations, how to rethink the problem by focusing on the particular person, without trying to attack to protect the community, as used to the psychiatric model; establish a team of professionals, volunteers and interns from various disciplines to help structure a true model of suicide prevention; linking universities and research groups that offer real results and not just statistics, such as having the Von Humbolt University and San Buenaventura.
Finally, I want to make some data:
According to the Institute of Legal Medicine and Forensic Sciences, between 2010 and 2014, 206 people committed suicide in Quindio.
In 2015 and so far in 2016 have committed suicide in Quindio: Nelson, Hector Julio in Calarca; Sister Maria, Ruben Dario, Angie Vanessa Quimbaya; Carlos Antonio, Alejandro, Juan Carlos, Veronica, Alfonso, Johana, Jaime, Pedronel, Jesus, Orlando, John Herman, Francisco, Jonathan, Libardo, Johan Stiven, Camilo, Ruben, Sofia Catalina, Adalberto, Ivan Alberto, Carlos, Sigifredo, James and John Henry in Armenia; Jhon Dario, Cosme, Carlos Alberto in Montenegro, Daniel, Arley in Circassia, José Ovidio in Pijao; Eduardo Buenavista (put here the names and not the numbers of suicide to note the softening effect and concealer that statistics have on the concrete reality) outside other cases that the Government and the municipal governments have not wanted to report suicides not look bad to the country, or the families of those affected want to hide to avoid social signaling. And many more have to die before we see the need to find real solutions.
conclusion
Clearly the local and regional government has thought in recent years that the phenomenon of suicide is nothing more than a public health problem or mental health and not a problem caused by impaired social reality. On the contrary, we can say that it kills is not simply a madman, a sinner or a criminal, but a victim of social violence, misunderstanding, isolation, stigma. We need to talk of suicides in Quindio from different positions, from different knowledge, to find solutions, to implement better prevention policies, to encourage citizens again interest in others. The taboo of suicide can not force us to remain silent: responsibility must be collective suicide.
By: Jairo Alberto Cardona Reyes | may 06, 2016